Hylozoic Series


萬物有生

[2007﹣ongoing]

Philip Beesley [Canada]
菲力浦.畢斯雷[加拿大]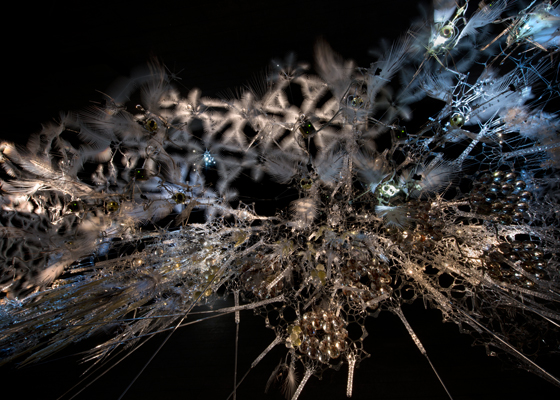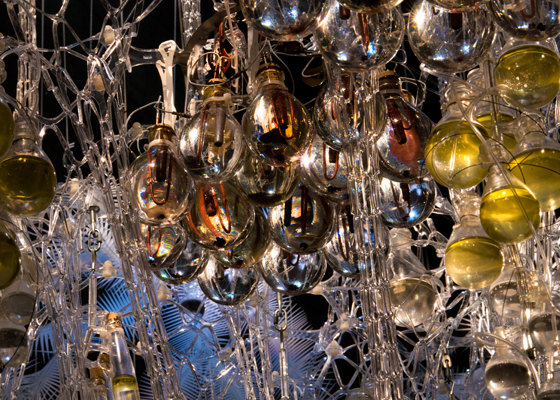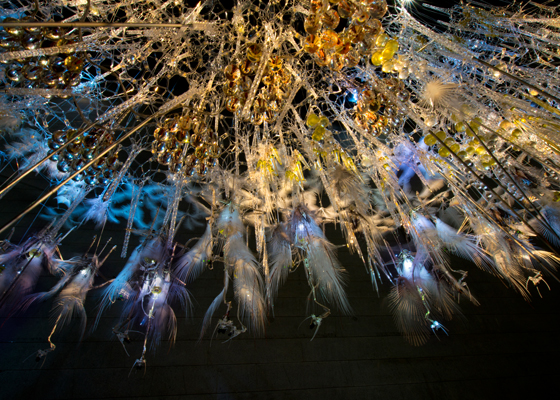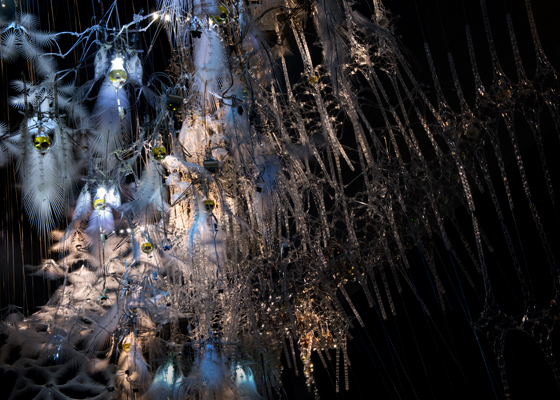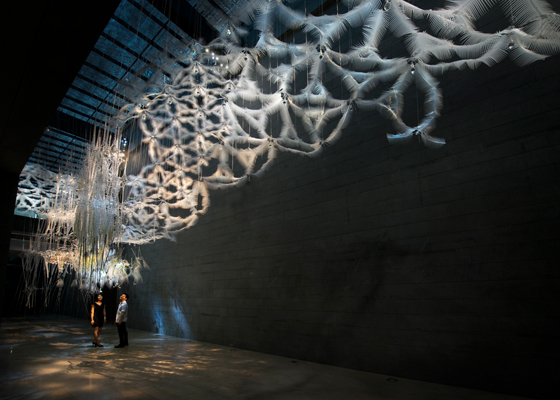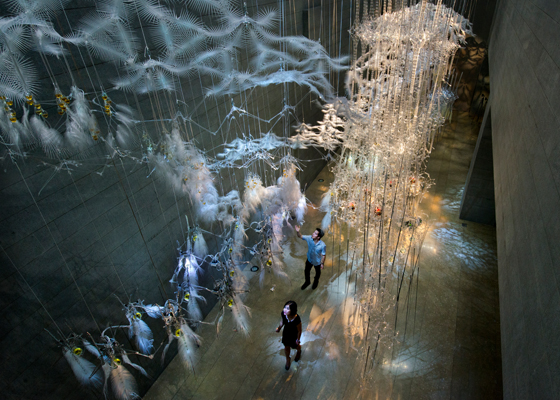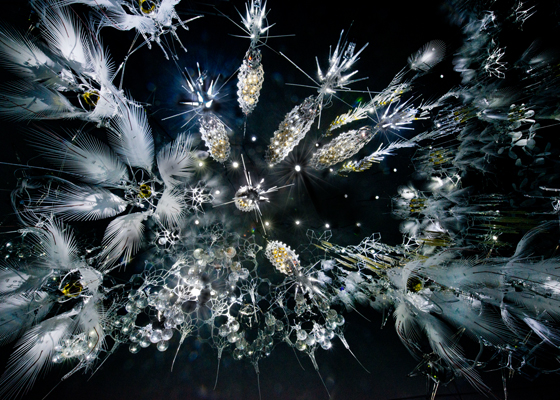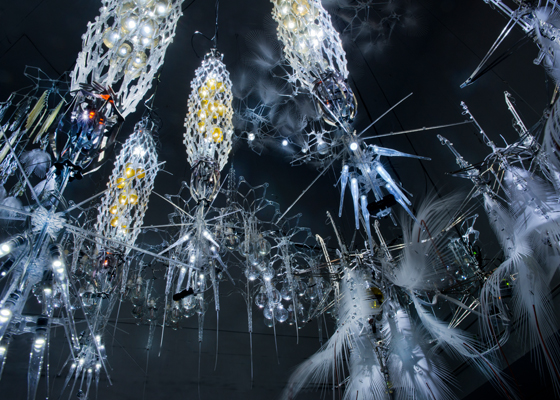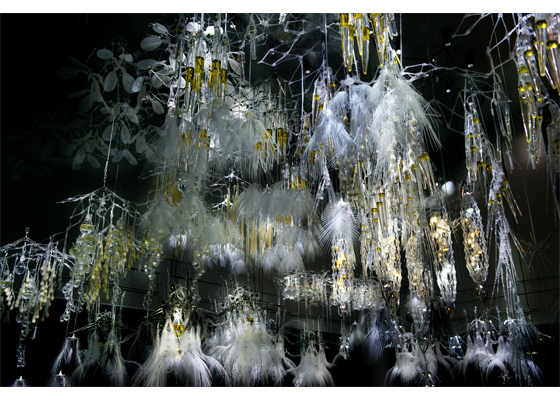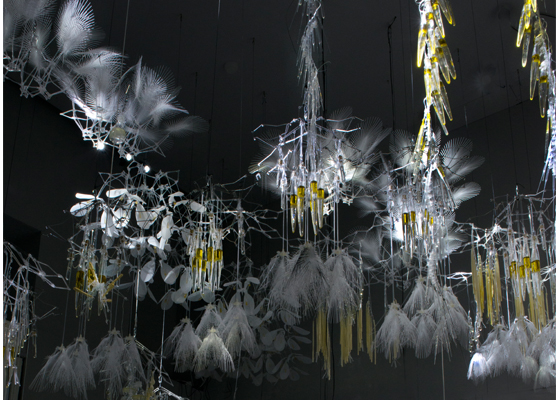 Artist's Biography
Philip Beesley is a Canadian interdisciplinary artist and experimental sculptor/architect who pursues near-living qualities in immersive interactive sculpture environments. He was educated in visual art at Queen's University, in technology at Humber College, and in architecture at the University of Toronto. Beesley is also a professor of architecture at the University of Waterloo, where he serves as Director for the Integrated Group for Visualization, Design and Manufacturing, and as Director for Riverside Architectural Press. His Toronto-based practice PBAI is an interdisciplinary design firm that combines public buildings with exhibition design, stage and lighting projects.
Beesley's work is situated in the emerging field of interactive sculpture at a time when critical and popular interest in 'living art' and biomimicry is surging.
His experimental projects over the past decade have increasingly focused on immersive digitally fabricated lightweight "textile" structures, while the most recent generations of these works feature interactive kinetic systems that use dense arrays of microprocessors, sensors and actuator systems to explore interactions between individuals and environments.
These environments combine synthetic and near-living systems in pursuit of a distributed emotional consciousness.
Philip Beesley's work is widely cited in the rapidly expanding technology of responsive architecture. He has authored and edited eight books and appeared on the cover of Artificial Life (MIT), LEONARDO and AD journals. Features include national CBC news, Casa Vogue, WIRED, and a series of TED talks. His work was selected to represent Canada at the 2010 Venice Biennale for Architecture, and he has been recognized by the Prix de Rome in Architecture, VIDA 11.0, FEIDAD, two Governor General's Awards, the 2014 Architizer A+ Award and as a Katerva finalist. Beesley's funding includes core CFI, SSHRC, NSERC and Canada Council for the Arts grants.
藝術家簡介
菲力浦.畢斯雷為加拿大跨界別藝術家及實驗雕塑家/建築師,致力追求接近生活品質的沉浸式的互動雕塑環境。他於皇后大學攻讀視 覺藝術、漢博公立學院硏讀科技、多倫多大學修讀建築。菲力浦現為加拿大滑鐵盧大學建築學院教授,並任為設計集團首席,亦同時為Riverside Architectural Press的董事。他在多倫多的跨界別設計公司PBAI致力結合公共建築物與展覽設計、舞台及燈光項目。
畢斯雷的作品屬於互動雕塑的新興領域,處於「生活藝術 」中的具批判性與普及興趣湧動的時代。
在過去十年,他的實驗項目越來越注重沉浸式數位形構輕量級「紡織 」結構。而在最近幾代的特色是採用微處理器、感應器和執行器系統的互動動力系統,以探討個人與環境之間的互動關係。
這些環境結合了合成與近生系列以追求一種分佈式的情感意識。
他的作品被廣泛引用於反應式建築的迅速擴張技術。他曾撰寫和編輯八本書,出現在Artificial Life(麻省理工學院),LEONARDO和AD期刊的封面,亦在國際 CBC新聞、 Casa Vogue雜誌、 WIRED雜誌刊載,並出現在一系列TED講座中。他的作品在2010年威尼斯建築雙年展中代表加拿大展出,作品亦曾獲得建築羅馬大獎[Prix de Rome in Architecture], 西班牙VIDA 11.0,以及兩度獲得總督大獎,2014年的Architizer A+ Award和Katerva 決賽者。他的資助來源包括core CFI、SSHRC、NSERC及加拿大協會的藝術補助。

Artist statement
Philip Beesley's Hylozoic Series explores the possibilities of environments that possess near-living qualities. These interactive environments integrate fine art, interactive media, protocell chemistry, distributed kinetics, and evolutionary control systems. The Hylozoic Series explores a new generation of responsive spaces, raising fundamental questions about how architecture might behave in the future. 'Hylozoism' refers to the ancient belief that all matter has life. Might future buildings begin to know and care about us? Might they start, in very primitive ways, to become alive?
Akin to the functions of a living system, these interactive geotextile mesh environments include embedded machine intelligence that allows human interaction to trigger breathing, caressing, and swallowing motions and hybrid metabolic exchanges. 'Living' chemical exchanges are conceived as the first stages of self-renewing functions that might take root within these installations.
The most recent generations of these works feature interactive lighting systems and kinetic mechanisms that use dense arrays of microprocessors and sensors. These works contemplate the ability of an environment to be near-living, to stimulate intimate evocations of compassion with viewers through artificial intelligence and mechanical empathy.
The work is an evolving series, initiated at the Montreal Beaux-Arts Museum in 2007-8, which has come to include over 30 exhibits across North America, Europe, Asia and Australasia. Works from the last three years include exhibitions at the 18th Biennale of Sydney, Australia (2012); Trondheim, Norway (2012); Taipei, Taiwan (2012); Nottingham & London, England (2012-13); Paris, France (2013); Hangzhou, China (2013); Seoul, Korea (2013-14); and Berlin, Germany (2014).
藝術家自述
菲力浦.畢斯雷的「萬物有生」致力探討擁有近生活品質環境的可能性。這些互動式的環境中整合了純藝術、互動媒體、protocell化學、分佈動力學以及演化的控制系統。「萬物有生」探討新一代的反應空間,提出關於建築的未來走向的根本問題。萬物有生論所指是源自古代,萬物均有生命的想法。未來的建築物會否開始理解及關心我們?他們或會以非常原始的方式開始慢慢地活起來?
類似一個生命系統的功能,這些互動的地工織物網狀環境包括嵌入式機器智能,透過人類的互動,能夠引發呼吸、撫摸以及吞嚥動作和混種動力代謝的交流。活化學交流即被認為是自我更新功能的第一步,並可能需要在這些裝置裡種根。
最近這幾代的作品均具有互動式照明系統以及使用微處理器和感應器的密集陣列的動力學機制 。這些作品思慮環境成為近生活的能力,通過人工智能和機械式同情去激發觀者的內心的召喚。
這件作品是一個不斷發展演變的系列,2007至2008年在蒙特利爾美術博物館開始,已經逹到了30多個展品橫跨北美、歐洲、亞洲和大洋洲了。從過去三年中的作品包括在澳洲第18悉尼雙年展、挪威特隆赫姆(2012)、台灣台北(2012)、英國諾丁漢及倫敦(2012-13)、法國巴黎(2013)、中國杭州(2013)、韓國漢城(2013-14)、德國柏林(2014)。