[DR] Jelena Guga


伊蓮娜 . 古家
[Serbia / Czech Republic]
[塞爾維亞 / 捷克]
Postdoc researcher at the University of West Bohemia, New Technologies Research Center – Department of Interdisciplinary Activities in Pilsen
比爾心波西希米亞大學跨界別活動系新科技研究中心博士後研究員
Conducted in English.
英語主講。
Urban Hallucinations: Living in Binary Coded Artistic Spaces
城市幻覺: 活在二進制編碼的藝術空間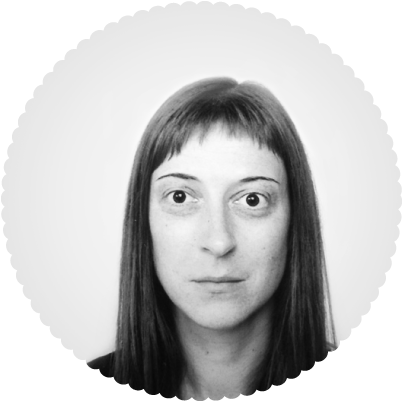 Speaker's biography
Jelena Guga is a theorist of arts and new media. Her work largely focuses on the ways new media technologies have rearticulated and redefined the notions of identity and embodiment in the age of constant connection and technological augmentation – from identity construction and bodily refunctionalization, to various digital interfaces and/or bio-technological interventions, to the convergence of digital and material landscapes and environmental information augmentation.
She holds a Ph.D. degree in Theory of Art and Media from the University of Arts in Belgrade, where she defended her PhD thesis entitled Body and Identity in Digital Space. She is currently working as a postdoc researcher at the University of West Bohemia, New Technologies Research Center – Department of Interdisciplinary Activities in Pilsen, Czech Republic.
She gave public lectures and participated in a number of international conferences. Her published work includes journal and magazine essays, conference proceedings papers, and book chapters in edited volumes. Her forthcoming book is called Digital Self: How We Became Binary (in Serbian), Art Kult, Novi Sad, 2014.
講者簡介
伊蓮娜是藝術及新媒體的理論家。她的工作主要集中於在這個持續聯繫及技術性擴展增強的年代,新媒體科技如何重新解說及定義身份概念及實踐方案;從身份建構及身體式重新功能化到不同的數位介面與/或 生物科技性的介入,至融合數位與素材的景觀和強化的環境資訊。
她在貝爾格萊德的藝術大學獲得藝術及媒體理論的博士學位,題目為數位空間內的身體與身份。她目前於捷克共和國比爾心西波西希米亞大學跨界別活動系的新科技研究中心擔任博士後研究員。
她教授公開講座,並曾參加一些國際會議。她發表的作品,包括在期刊及雜誌刊登的論文,會議論文及編輯刊號中的書籍章節。她即將出版的新書名為「數位自我:我們如何成為二進制」(塞爾維亞),藝術庫爾特(Kult),諾維薩德,2014年。

Speakers' abstract
Urban Hallucinations: Living in Binary Coded Artistic Spaces
Throughout the history, cities have always been regarded as sites or centers of accumulation of political, economic, cultural, social, and material resources. Today, in the age of ubiquitous computing and networking, new media technologies have radically challenged the role of cities as centers by transforming them into multiple nodes in the networks of dynamic data and communication flows, or into "overexposed cities" (P. Virilio). In other words, cities have entered a new mode of existence as immaterial, non-geographic entities or "meta-cities" (W.Gibson) in which buildings are hardware and software is the way of life.
The presentation will outline how the convergence of digital and material spaces has affected the notions of architecture and urbanism and collapsed the boundaries between urban and rural, public and private, center and margin, near and far, here and there, and so on.
The focus will be on new media art practices and projects which stand at the forefront and are the avant-garde of the potential architectures of the future, i.e. on the ways these practices affect urban landscapes. Furthermore, the presentation will examine the possible applications of the core principles of new media art such as fluidity, processuality, interactivity, emergence, and hybridity in modern architectural practices. These will be discussed through the notions of "liquid" or "trans-architecture" (M. Novak), "relational architecture" (R. Lozano-Hemmer), and "living architecture" (R. Armstrong), to mention but a few. Unlike traditional architectural practices, these practices open up a space for renegotiations and newly emergent couplings between materiality and immateriality, reality and virtuality, as well as between nature and artifice.
講座概述
城市幻覺:活在二進制編碼的藝術空間
回顧歷史,城市一直被視為積類政治、經濟、文化、社會和物質資源的地方或中心。今時今日,在這個電腦和網路無處不在的時代,新媒體科技透過轉換它們至動態數據及通訊流的網絡中的多個節點,就已經可以從根本上挑戰城市作為中心的角色,又或是變成「過度曝光的城市」(P. Virilio)。換言之,城市已經進入了一個新的存在模式,因為就建築中無形、非地理實體或是「meta-cities」 的概念(W.Gibson),在生活中建築物就是軟件與硬件。
是次演遘將概述數位化及物質化的空間如何影響了建築和城市規劃的概念,以至壓縮城與鄉、公與私、中心與邊緣、遠跟近、此與彼等之間的界限。
重點將放在其站在最前列,是前衛的未來的潛在結構,即對這些做法影響城市景觀的途徑新媒體藝術實踐和項目。
此外,該報告將探討新媒體藝術,如流動性,processuality,交互性,興起,和混雜在現代建築實踐的核心原則的可能的應用。這些將通過"液體"或"反結構"(M.諾瓦克),"關係架構」(R.洛薩諾 - 捲邊),以及"活建築"(河阿姆斯特朗)的概念進行討論,僅舉數。不同於傳統的建築實踐,這些實踐開拓性和技巧之間的重新談判和實質性和非物質,現實與虛擬之間新出現的聯軸器的空間,以及自然和非自然。