Rachel Wingfield


雷切爾.溫菲爾德
[UK]
[英國]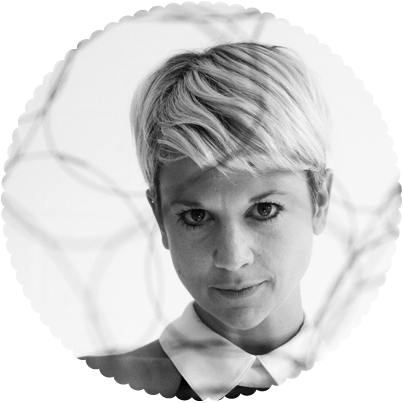 Speaker's biography
Rachel is a designer, researcher and educator who co-founded Loop.pH in 2003, a collaborative spatial laboratory operating at the convergence of design, architecture and science.
Rachel trained at the Royal College of Art in London and specialised in adaptive, smart materials for the built environment, inspired by the study of biology and living systems.
Rachel speculates on near and far future scenarios that explore emerging biological and technological futures that could impact society and the world at large. As creative director, she runs projects that craft space, technology and living materials into visionary experiences and environments. Her work explores a new role for designers to intervene at an urban scale and develops participatory tools for public engagement initiatives and multidisciplinary practices.
She also consults for industry on creative strategies and provides trend and insight reports through collaborative workshops and in-house presentations for clients such as BMW, EDF and Swarovski.
Rachel is also a design educator and has taught at some of the leading international design schools, such as the Royal College of Art, Central St. Martins, The Strelka Institute, The Royal Academy of Architecture Copenhagen, Zurich University of the Arts, Shenkar College of Engineering & Design (Tel Aviv) and ECAL, Lausanne.
Her design work can be found in the permanent collections of the MoMA (NY), The Victoria & Albert Museum, Norman Fosters Art Collection & the Bloomberg Art Collection.
Recent clients include Swarovski, Royal Historical Palaces London, Bloomberg, Foster and Partners, Kew Gardens, EDF & Lille3000, Belvedere, BMW & The ICA, Centre of the Cell and the Medical Research Council.
講者簡介
設計師、研究員及教育工作者雷切爾,2003年創辦了凝聚設計、建築及科學的協作空間實驗室Loop.pH。修讀於倫敦皇家藝術學院,受生物學存活體系的研究啟發,為建構環境鑽研適應性智能物質。
雷切爾致力於思考既遠或近的未來事態情境,探索新興的生物科技未來將如何影響社會及世界。這位創意總監進行的一系列項目,將空間、科技及存活物質掐入可預見的環境和體驗中。其作品探索設計師的新角色——從城市刻度介入,為公共決策倡議及多學科實踐發展參與式工具。
她亦為業界作創意策略顧問,透過協同工作坊及內部簡介會,為BMW、EDF及 Swarovski等客戶,提供有建地的趨勢報告。作為設計教育工作者,她曾在各地知名院校任教:倫敦的聖馬田和皇家藝術學院、莫斯科Strelka建築媒體及設計學院、哥本哈根皇家建築學院、蘇黎世藝術大學、特拉維夫Shenkar設計與工程學院、及瑞士洛桑州立藝術學院。
其設計作品可見於紐約現代藝術博物館、倫敦維多利亞和阿爾伯特博物館、諾曼.福斯特及彭博的藝術藏品中。
其客戶包括Swarovski、倫敦歷史皇家宮殿、彭博、諾曼.福斯特事務所、英國皇室植物園、EDF & Lille3000、Belvedere、倫敦ICA與BMW的合作、細胞中心及醫學研究協會。

Speakers' abstract
Spatial Laboratory
Rachel will introduce the work of London based Loop.pH and discuss their approach to design and the city.
Designers are the people who help shape the ways in which we experience the world around us, and Rachel believes designers to be the important spokespersons and agents for change in creating more sustainable futures.
Many of the negative visions of the future, seen in pop-culture and sci-fiction limit people's abilities to dream big and act differently. Design can be used to create a more optimistic, ambitious and engaged conversation about the future that leads to meaningful change.
Loop.pH position themselves at the transformational process where Design Fiction & Speculation leads to Experimentation & Action.
As creative disciplines merge and mutate, the opportunities for designers to work as urban interventionists and in an architectural context grow.
It's Rachel's ambition to establish a totally different design practice, one where designers, architects, scientists could all work together in a playful and experimental environment on meaningful projects that radically re-think the City.
Her agenda is to activate public space through creating environments and experiences that communicate and engage people with science and technology in a positive and enlightening way.
Rachel will share work that explores and speculates on new modes of fabricating architectural space, which looks to answer 'How can we build architecture and spaces as nature does?' One of her core strategies is to work to a design criterion and strategy based on ecological and biological paradigms.
講座概述
空間實驗室
雷切爾將會介紹其倫敦Loop.pH的項目,討論他們介入設計及城市的手段。
設計師是協助模塑我們如何經驗周遭世界的一班人,而雷切爾相信,設計師將是帶來改變的重要中介者及代言人,創造更可持續的未來。
流行文化及科幻小說不時描述的陰暗未來,規限了人類異想天開和採取不同行動的能力。而透過設計的介入,可為未來創造更樂觀、有抱負的對話,引向更有意義的改變。
Loop.pH定位於轉換生成的過程中,讓設計的虛擬思辦引發實驗與行動。
當各創意範疇融合轉化,就是設計師作為城市幹旋者延伸建築語境的時機。
雷切爾致力於建構非比尋常的設計實踐,讓設計師、建築師、科學家在好玩的實驗環境中合作,參與激進地重新思考城市的有意義項目。
她的議題是透過創意環境及體驗激活公共空間,以科學及科技積極啟迪方式,讓公眾參與溝通。
雷切爾將會分享其思考探索組構建築空間新形態的作品,這些作品企圖回應「如何能像自然界般營造我們的建築與空間」。其一核心策略建基於生態及生物學範式上,去研發一套設計批判準則及群策。