29.11.2014[
Sat

六]
1400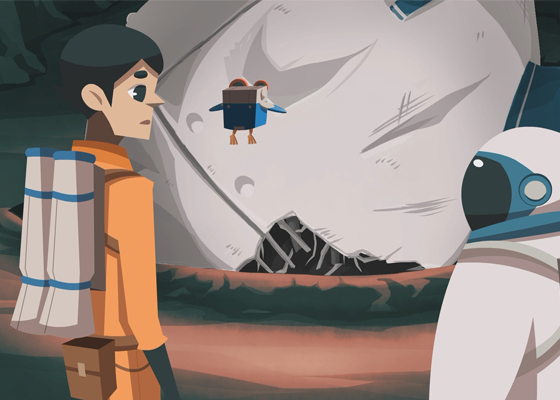 Selected animations of Future Film Day in Daiwan
未來電影日短打
[2014, TaiWan 台灣]
Duration: 35min
Clockenflap Film Tent
West Kowloon Cultural District
西九文化區Clockenflap 電影棚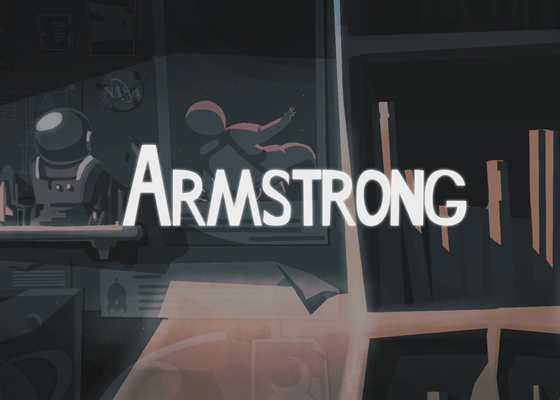 Armstrong 阿姆斯壯
Director: Bauxixia 爆!溪!蝦!
Duration: 6 min 30 sec
Movie Synopsis
Leading a solemn and eternal solitary life on the Moon, Armstrong admires the astronaut as his hero. On one fateful day, he meets an astronaut falling from the sky, but only finds him not quite like what he has always imagined...
電影簡介
孤獨生活在月球的阿姆斯壯非常崇拜太空人。某天他突然遇見了從天而降的太空人,然而,這個太空人似乎不像阿姆斯壯所景仰的那樣……
About The Director
Bauxixia is a group of three young talents graduated from the Department of Multimedia and Animation Arts of NTUA. With respective expertises and many working experience together, Bauxixia produces "Armstrong" as the final work before they graduate. The three geniuses approach the story from different angles and mindsets, giving the audience multiple perspectives on one core story – "Armstrong."
導演簡介
爆溪蝦是由許祖齊、李曼寧、李涵霓三人所組成的團隊,我們畢業於國立台灣藝術大學的多媒體動畫藝術學系。三人曾有過多次合作經驗,以個人不同的專長來進行分工。由於有一致、共同的理念,並且對2D動畫都有相當的熱情,我們決定共同創作畢業前最後一支動畫—《ARMSTRONG》。而藉三人不同的人格特質,在討論的過程中能以不同的角度來分析故事、讓彼此能跳脫自己的思維來看待情節,以同一個核心概念發散出不同的角度,讓我們能將最好的《ARMSTRONG》呈現出來。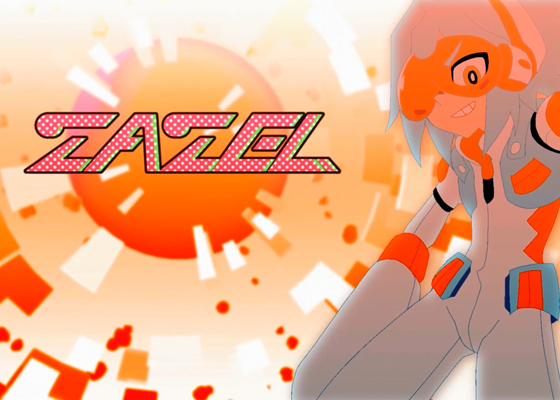 Zazel 砲彈少女薩吉兒
Director: Hong-hisLu 陸泓熹
Crew:En Li, Min Zhang, Bo-ShunZhang,
Yuan-Yi Guo 李恩, 張閔, 郭元一, 張博舜
Duration: 6 min 48 sec
Movie Synopsis
Inspired by the circus play "human cannonball," the film displays a dazzling world beyond imagination in which the protagonist Zazel dreams of entering the cannonball race. Through a series of unexpected fortune and misfortune, Zazel finds herself exactly in that spot!
電影簡介
本片以馬戲團「人肉砲彈」為基礎概念,創造出了一個擁有獨特競賽的架空世界。藉由位居幕後不受矚目,但對於比賽自小有著嚮往的小技工-薩吉兒,於作品中「意外」的參與激烈的競賽,讓整體比賽的競爭過程和世界觀得以有個具體的呈現外,也表現突如其來的一段如鬧劇的插曲,對薩吉兒自我認同的心境轉變。
About The Director
Much influenced by the Japanese and American animation and deeply fascinated by the two distinctive presentation and aesthetic forms, Lu endeavours to mix the two in his creative production of Zazel. He is the producer and director of Zazel and holds keen interests in StopMotion technique.
導演簡介
深受日本動畫和美式動畫的影響,並對雙方不同的表演和美術形式深深著迷,於是在創作的過程致力於日美混合的動畫風格,以打破過往對於作品風格優劣或獨特性的迷思。於《砲彈少女薩吉兒》中擔當企劃和原畫一職,對逐格作畫十分的喜愛。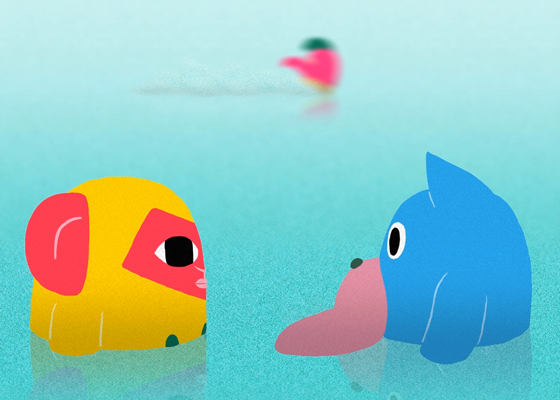 Swim Your Way
Director: Chen Wei-Yuan, Eden Chan, Chang Shih-Kai 陳威元, 詹凱勛 , 張世楷
Duration: 6 min 15 sec
Movie Synopsis
Three little things with an ordinary life in a rural dessert suddenly find an UFO from the sky, which makes them start to learn swimming.
電影簡介
生活在廢墟沙漠的三隻小傢伙們過著平凡的日子,有天天上落下一個神祕物體,燃起了他們­學習游泳的慾望……
About The Director
Swim Your Way is a piece of student work by a trio of final-year students from NUTA during their forth semester. The team has worked previously on other projects in animation and comic. Besides focusing on animation production, they also explore their talents in other media.
導演簡介
詹凱勛、陳威元、張世楷三人目前就讀國立臺北藝術大學動畫系三年級,Swim Your Way是我們二年級下學期的學期作品。在製作Swim Your Way之前我們彼此間已經有幾次合作的經驗了,像詹凱勛和陳威元曾合作過「扭蛋叩嘍叩嘍」及「楚哈釣魚記」兩步動畫作品,三人也曾合作過一本漫畫合集「霧中之蛹」(目前正在合作「霧中之蛹2」)。雖然學校主要培養我們創作動畫,其實課餘時間我們還有其他多元的創作。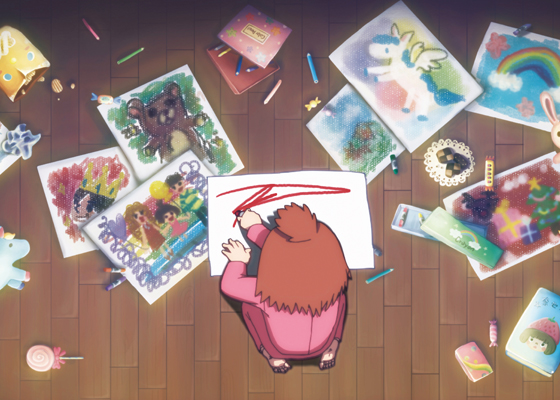 What's going on with Annie
奈也安妮
Director: Xu Yin-Jia 許尹嘉
Duration: 7 min
Movie Synopsis
Annie is a little girl who likes drawing. In her room, there are always full of her drawing paper and other drawing tools. There are always such a mess in her room. Empty cookie bags, empty cans are all around because she is not that good at clean up her room. One day, when Annie was drawing in her room, one strange sound rose from the bottom of her bed. Suddenly, she and her drawing tools were sucked into the bottom of her bed...there was another world!
電影簡介
安妮是位喜歡畫圖的小女孩,房間裡總是充滿著她的圖畫紙和畫筆,不過安妮的生活習慣不太好,不喜歡整理自己的房間,甚至會把吃完餅乾的垃圾及喝完的空瓶罐隨手丟在房內,造成許多髒亂。直到有天晚上,安妮在房間畫畫時……
About The Director
From Taiwan, Xu enjoys watching and studying animation in her daily life. Xu is mysterious and thinks out of the box.
導演簡介
我的名字是許尹嘉。我來自臺灣。在日常生活中,我喜歡觀看和研究動畫。我是一個神秘的人,人們無法了解我。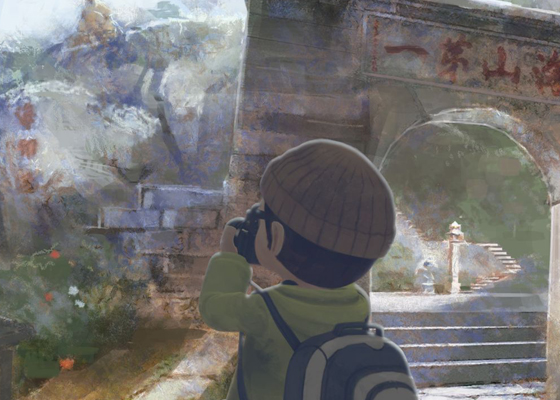 the traveller 旅人奇遇
Director: Chang-jung Lin 林錚溶
Duration: 6 min 4 sec
Movie Synopsis
The Traveller met a naughty girl in a desolate village. Her strange behaviour had greatly perplexed him but he had no choice but to help her to get something from the tower. It turned out to be a very old and dirty doll. The girl was so delighted but why she treasured the doll so much? And why...
電影簡介
旅人大叔在荒涼古蹟村落,遇上一個頑皮小女孩。她的糾纏與搗蛋,讓旅人大叔相當無奈。原來,在一座高塔上,有小女孩希望旅人大叔找的東西。懼高的旅人努力爬著總算找到了,是老舊且骯髒的布娃娃。拿到布娃娃的女孩顯得相當開心,不過為什麼,對這布娃娃情有獨衷?又怎會在一個這麼高的塔上?…
About The Director
Born in 1980, Lin draws slowly with experiences in game arts, animation, and comic. Friends regard Lin as delusional, careless, and a womanizer but his works heart-warming.
導演簡介
1980年次路癡金牛,行走緩慢,反應緩慢,連畫圖也都慢慢來。
經歷遊戲美術、動畫製作、漫畫助理。
朋友形容俺頑固摳門好色粗心又被害妄想、生活白痴等等…orz
但,作品倒是挺溫暖人心的。