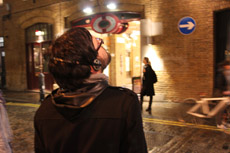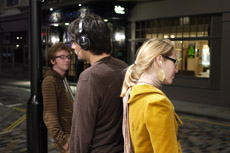 'as if it were the last time' – a subtlemob
By Duncan Speakman (UK)

Saturday 4th December, 2010 | 6:30 PM
at Tsuen Wan secret location
Flash and the city.
A movie insides you and me.
Thirty minutes. A moment to shine. (subtle)
All the world's a stage.
All the world's a screen.
"When you put on the headphones you'll find yourself immersed in the cinema of everyday life. As the soundtrack swells people in the crowd around you will begin to re-enact the Hong Kong of today. Sometimes you'll just be drifting and watching, but sometimes you'll be following instructions or creating the scenes yourself. Don't worry, there will be nothing illegal or embarrassing, sometimes you might be re-enacting moments you've seen in films, sometimes you'll just be playing yourself. This is no requiem, this a celebratory slow dance, a chance to savour the world you live in, and to see it with fresh eyes."
Audiences were invited to download an MP3 and turn up at a secret location to listen to the track at a specified time. On the soundtrack the audience would hear the composed soundtrack along with narration and instructions.Two MP3 files were made available, so the audience were divided in half. While one group was instructed to perform a simple scene the other group heard this described as if it were a film scene, but they could actually see it happening around them.
Throughout the piece these roles of watcher/performer alternated between the groups, ever increasing in pace until by the end they are all performing/watching simultaneously. The work was a snapshot image of contemporary Britain, allowing the audience to watch it, reflect on it, and live it. It explored ideas of how mobile technology can create social disconnection in shared public spaces. It also looked for ways to use those same technologies to create connections between strangers and friends, to savour the moment and the temporary space that was created during the performance.
What happens after I sign up?
A couple of days before the event you'll be sent a link to an MP3 of specially composed music and narrative and a map of the secret location. Follow the instruction, arrive the secret location and press play at 6:30pm ; an invisible yet heart-filling experience will then unfold. Remember, you'll need to come with a partner (e.g. a friend, a lover, or just someone you want to get to know better) and you both need your own device that can play MP3s .
The event is approx 33mins long
Registration page: www.subtlemob.com
In partnership with British Council
乍現映院 -- <<彷彿,最後一次>>
鄧肯.聲人 (英國)

二零一零年十二月四日 | 傍晚六時半
荃灣祕密地點
一齣乍現於城市的電影。 半小時,你會發現自己化身主角,潛入銀幕,演活一場絕世好戲。
「當你戴上耳機,你會發現自己沈溺在日常生活的電影裡。配樂漸漸把你從環境中抽離,並開始重新設定今天的香港。你或會觀看、或會遊走、或會依隨指示、或會編寫自己的場景。不用擔心,這不會有違法或令人尷尬的事情發生,你可能會不經意地重演熟識的電影片段,也可能會做回自己。這不是安魂曲,這是一支慶祝的慢舞。這支慢舞會帶你細味你所身處的世界,當完結的時候,你會發現自己正以新的眼光,感受身邊熟識的一切。」

參與者將被邀請下載一段 MP3,並在一個秘密地點和指定時間,聆聽那段錄音。錄音中觀眾將會聽到配樂、旁白及指示。這作品包含兩段不同的 MP3,把參與者分成兩組。一組按錄音中的指示構成簡單的場景,另一組會像觀眾般聽到一個電影幕間的描述,而此景象就正正在觀眾身邊發生。

在整個作品中,觀眾及表演者的角色會不斷交替。隨著表演進行,交替的步伐亦會加快,直至最後,他們同時表演,又同時觀看。這作品是當代英國的寫照,它邀請群眾觀看它,思考它,並樂在其中。作品探討流動科技在公共空間如何截斷人與人的連繫。另一方面,它卻巧妙地理用相同技術,把陌生人及朋友連結起來,邀請他們一起細味此時此刻及表演中編成的臨時空間。



註冊之後



在表演進行前數天,你會透過電郵收到一條連結,內有將帶領你進入故事的MP3連結,祕密地點的地圖及表演詳情。只要你按指示,在傍晚六時半到達祕密地點,然後開始播放MP3,一場看不見卻感動的體驗便會展開。緊記,你需要一位同伴(可以是朋友,情人,又或是你想認識多一點的人)及每人一部MP3播放器與你參與這次演出。

旅程約長33分鐘
報名專頁: www.subtlemob.com

伙伴機構︰英國文化協會