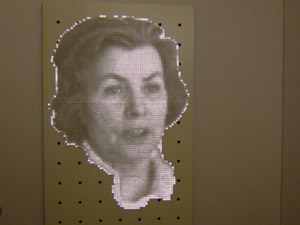 Artist Statement & Technical Statement
Partos' work is site-specific: with inspirations from the blend of the surroundings, the landscape, architecture, historical and social context, light conditions, economical/practical/mental possibilities/limitations, and what is in his own mind, memories and thoughts.
Partos is interested in "solutions", ways to combine either things and/or feelings that make sense to him. Artistic manifesto can be how an idea fits into a certain material expression, or how two materials are combined together, and with what kind of arrangement.
His idea brings him into learning more about material and technique. New materials and techniques stimulate new ideas, or vice versa. Technique and materials in his work vary: from mechanical or electronic "mobile art" for water, light, fire & sound, to "stable art" made of ceramic, wood, concrete & metal. Anything works.
M.O.M. (Multi Oriented Mirror) is a picture made of five thousand mirrors. Mirrors are individually slanted to collect a specific hue of the opposite empty wall. The wall is lit so the top is bright and the lower part is dark. The mirrors act as colours and visualize a portrait of his mother (†1996). This picture is a memory made of many facets, visible yet unreal, on the wall but in the room, four dimensions dressed as two.
藝術家陳述及技術陳述
巴托斯的作品多以場地特定裝置出發。他以場地週遭的景色、建築物、當地歷史、社會環境、燈光條件、經濟/ 實用/ 心理角度的可能性與限制出發,來配合他的記憶和意念創作。

巴托斯的作品以「解決問題」為出路,他喜歡以不同方法將個人感受與物件結合。作品的藝術性可以是結合意念與物質的表現,或是以各種方法併合或排列兩種不同物料而成。

他的創作讓他得到更多關於物料與技巧的知識,這些新的知識又啓發他更多的創作意念。他每個作品使用的技巧與物料皆不同,有以機械與電子模擬水、光、火及聲音的「流動藝術」;也有以陶泥、木材、混凝土及金屬製作的「定態藝術」。

母親是一個由五千面鏡子組成的圖像。每面鏡子的傾斜度皆不同,以反射出對面牆壁特定的色相。牆壁上方被燈照亮,而下方則較暗。鏡子變奏出顏色光譜並合併成藝術家母親的肖像(於一九九六年離世)。這個肖像存著多個層面:能以肉眼捕捉卻又不真實的、既在牆上也在房間裡、將四維空間合成二次元。